0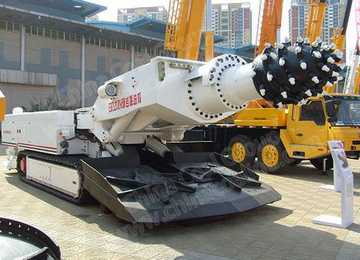 Underground Mining Heading Machine
1. Underground Mining Heading Machine is able to combine with dump truck, shuttle car and belt conveyor to realize driving, transport and continuous operating. 2. The mining capacity of eight-ho
Related Products
Features of Underground Mining Heading Machine
1.Underground Mining Heading Machine is able to combine with dump truck, shuttle car and belt conveyor to realize driving, transport and continuous operating.
2. The mining capacity of eight-hour shift is up to 6-10 meters(record on the site); it can bring both economic benefit and social benefit.
3. The biggest pressure resist can reach 50Mpa when cutting rock and can supply power interface for anchor pumps station. Low machine body, low barycentre, compact structure, well steady function.
4. High efficiency of digging, suitable cutting power, used for middle or small coal lane (the smallest section surface: width1.8M/ height1.8M) of every section surface, semi-coal and rock tunnel, soft rock roadway's speedy drivage and also suitable for short arm mining and mining of residual coal mining area, the recycling of coal pillar,"triangle coal" and wandering coal seam.
Photos of Underground Mining Heading Machine