0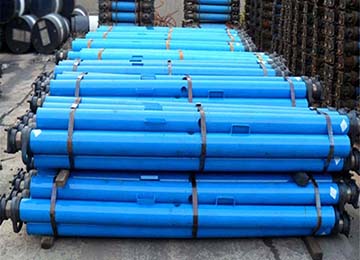 DW Single Hydraulic Prop
Single hydraulic prop is a new environmentally friendly support equipment, both hinged roof beams and the metal used for supporting high-grade conventional mining and use of face support artillery and
Related Products
Introduction Of DW Single Hydraulic Prop
DW Single hydraulic prop for seam angle is less than 25 degrees - 35 degrees inclined coal seam mining face, the adaptation of the coal seam roof and floor conditions are: roof pillars behind do not affect the recovery of base should not be too soft, prop depth is not pressed into the floor deterioration of the integrity of the base plate, or should increase the base. In the coal mining face relatively loose cannon when used on the live cylinder coating surface to take protective measures to prevent collapse. With wooden roof beams and pillars or columns used to do, you should replace the column caps cover to prevent damage to wooden beams.
Advantages Of DW Single Hydraulic Prop
1 Small size
2 Support high 
3 Support reliable 
4 Convenient to use and repair   
5 Integrated low cost
Troubleshooting and Maintenance of DW Single Hydraulic Prop
Local scratches and hydraulic equipment hydraulic prop deformation is common problem, especially in the mouth deformation piston leakage, corrosion and other problems downhole hydraulic prop, due to equipment disassembly more difficult problems mentioned above and more traditional methods to solve difficult scene to replaced with new parts based, but the replacement cycle is long and expensive. Hydraulic prop for the latest contemporary repair methods to polymer composites based. Which has excellent adhesion and good compressive strength, not only to meet the requirements of the conditions of the production and operation process is simple, neither heat affected, coating thickness and unrestricted. While the coating itself has excellent corrosion resistance and oil self-lubricating function to ensure the wear resistance after the repair, to ensure normal production, to avoid damage to equipment components increased.
Photo Of DW Single Hydraulic Prop