0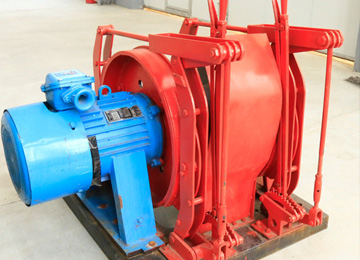 JD Mining Dispatching Winch
JD Mining Dispatching Winch is mainly applicable to coalface and excavating face loading station dispatch tramcar underground coal mine, middle laneway carrying tramcar and other transportation, also
Related Products
Introduction of JD Mining Dispatching Winch
JD Mining Dispatching Winch is mainly applicable to coalface and excavating face loading station dispatch tramcar underground coal mine, middle laneway carrying tramcar and other transportation, also it can be used for metallurgy mine and construction hoisting.
It is strictly prohibited to brake at both ends and be used in man-riding or lifting.Flameproof design is suitable for the mine within coal dust and mash gas. All electrical equipment must have the security card during a validity period.
JD Dispatching Winch is widely used to pull the tramcar underground.The explosion-proof electric device can be applicable for the colliery and other mine with gas danger.
JD Dispatching Winch are all explosion-proof for mine or surface mine car loading operation grouping and hauling carts in the middle of roadways and other supporting transport purpose.
JD Dispatching Winch are used plantary gear drive, have following features:compact structure, good rigidity, high efficiency, conveniency for installing and moving, flexible operation, smooth braking, low noise.
Main Parameter of JD Mining Dispatching Winch
| | | | | | |
| --- | --- | --- | --- | --- | --- |
| Model | JD-0.5 | JD-0.75 | JD-1 | JD-1.6 | JD-4 |
| Traction Force KN | 7.5 | 7.5 | 10 | 17.6 | 30 |
| Average Speed m/s | 0.71 | 0.71 | 0.78 | 1.40 | 1.44 |
| Dia of Wire Rope mm | 9.3 | 9.3 | 12.5 | 15 | 20 |
| Drum Size mm | 200×300 | 200×300 | 224×304 | 310×400 | 620×580 |
| Rope Capacity m | 250 | 250 | 400 | 440 | 480 |
| Total Reduction Ratio | 34.81 | 34.81 | 41 | 32.5 | 31.8 |
| Motor Type | YB132S-4-B5 | YBJ-11.4 | YBJ45-4 | YBJ40-4 | YB2-132S-4 |
| Motor Power KW | 5.5 | 11.4 | 25 | 40 | 5.5 |
| Motor Rev Rev/min | 1440 | 1460 | 1470 | 1470 | 1440 |
| Motor Voltage V | 380/660 | 380/660V | 380/660V | 380/660V | 380/660V |
| Di mention mm L×W×H | 1085×730×697 | 1085×730×697 | 1073×766×727 | 1448×1255×1260 | 1900×2350×1370 |
| Weight KG | 400 | 400 | 578 | 1370 | 2800 |
Pictures of JD Mining Dispatching Winch