0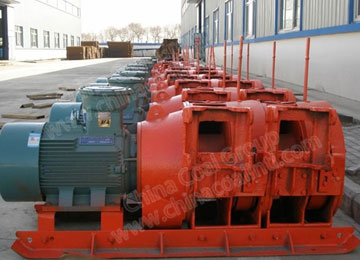 2JP Underground Electric Scraper Winch
The Underground Electric Mining Scraper Winch is mainly used to metal, chemical, contribution and the mine etc, and the underground working, such as the transportation etc. Meanwhile, the scrape winch
Related Products
Application of 2JP Underground Electric Scraper Winch
The Underground Electric Mining Scraper Winch is mainly used to metal, chemical, contribution and the mine etc, and the underground working, such as the transportation etc. Meanwhile, the scrape winch is just suitable to the parallel transportation on ground, or the slopes within 500; Not be the hoisting machines.
Main Components of 2JP Underground Electric Scraper Winch
deceleration device, main roll, Vice reel, control devices, wire guiding device and motor. These parts were installed inside and outside the shell, the shell is a good steel parts, both to protect the supporting role, but also to bear all the load. It is connected on the basis of two slide bolt.
Binoculars winch a master reel (mounted on the right, ie, close to the motor side), a secondary reel (mounted on the left).
A master reel (mounted in the middle) in the three-drum winch, two vice reel (mounted on the left and right), three drum winch can be mounted two main reel (mounted on the right and middle), a vice volume cylinder (mounted on the left), each roll corresponding control device and a wire rope guide.
Main Parameter of 2JP Underground Electric Scraper Winch



Item




Unit

Model of winch

2JP-7.5

3JP-7.5

2JP-15

3JP-15

2JP-30

3JP-30

2JP-55

3JP-55

2JP-75

2JP-90

2JP-110

Volume of scraper pan




0.1

0.25

0.4

0.6

1.0

1.5

1.6

Average puling Force of working drum

KN

8

14

28

50

54

62

78

Average Speed of wire rope

m/s

1.0

1.1

1.2

1.2

1.3

1.3

1.3

Diameter of wire rope

mm

9.3

12.5

15.5

18.5

20

23

24.5

Rope capacity of drum

m

45

80

90

100

180

125

110

Electric power

KW

7.5

15

30

55

75

90

110

Motor speed

m/s

1440

1210

1460

1525

1470

1685

1485

2070

1480

1480

1480

Overall dimension

length

mm

1210

1525

1685

2070

2350

2400

2600

width

mm

565

660

380

1010

1515

1515

1515

height

mm

490

620

735

890

1300

1300

1300
Pictures of 2JP Underground Electric Scraper Winch