0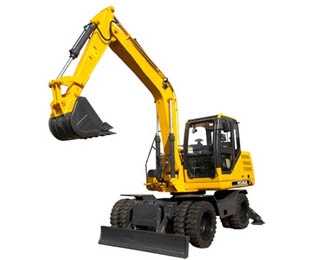 JHL85 8.5 Ton Wheel Excavator
JHL85 8.5 Ton Wheel Excavator can turn around freely?and the engine is powerful for your construction.
Related Products
JHL85 8.5 Ton Wheel Excavator Introduction
Operating Environment
·All-round expansion of the field of view, to increase the front and side windows and the rear window to ensure the vision, greatly reducing the dead zone, the operation more safe and efficient.
·Increasing day window to improve upward visibility and increase ventilation. Doors and windows with tempered glass to prevent the visor to direct sunlight;
?All operational control theory according to ergonomic design and layout.
·Operating handle easily and easy to control.
·Deluxe cab package, liquid crystal display panels, luxury seats.
·Installation of air conditioning, indoor warm air to ensure rapid heating, cooling
Intelligent operation and display
·Large screen multi-function LCD monitor, digital display, full control of the engine operation (speed, water temperature, oil pressure, etc.), all kinds of machine operating information at any time.
·Focus function switch on the control panel is arranged, through point-touch buttons and easy selection.
* Using GPS satellite positioning system, remote diagnostics, fault warning, maintenance, automatic reminders.
Convenient, fast repair and maintenance
·Oil filter, pilot filter, fuel filter, oil-water separators can be disposed on the ground then check replace place.
·Large-capacity fuel tank, to achieve a long job.
* Large toolbox, storage is more conducive to spare items.
·Repair and maintenance cycle longer: selection of high-quality parts, extended service life, reducing machine maintenance time.
JHL85 8.5 Ton Wheel Excavator Main Parameter
| | |
| --- | --- |
| Excavator Model | JHL85 |
| Operatig Weight | 8,500kg |
| Bucket Capacity | 0.40m3 |
| Engine Brand&Power | Yuchai4108&83hp |
| Oil Consumption | 6L/Hour |
| Swing Speed | 12rpm |
JHL85A-6

Pump

Imported constant power variable pump

Swing

Imported swing valve complement

Drive

Four wheels hydraulic drive,which is much powerful and best for driving on slushy ground

Oil piping system

With oil piping system for hydraulic hammer

JHL85B

Pump

Imported constant power variable pump

Valve

Imported main valve

Swing

Imported swing valve complement

Drive

Four wheels hydraulic drive,which is much powerful and best for

driving on slushy ground

Tyre

750-20

Speed reduction

Dongfanghong parking and emergency(wheel) brake

Cab

Comfort adjustable seat suit for long time work & air conditioner for

severe weather

Oil piping system

With oil piping system for hydraulic hammer
| | |
| --- | --- |
| Boom Length | 3,500mm |
| Arm Length | 1,650mm |
| A. Max. Digging Radius | 6,349mm |
| B. Max. Digging Depth | 3,970mm |
| C. Max. Digging Height | 6,700mm |
| D. Max. Dumping Height | 4,600mm |
| E. MAX Dozer Cutting Depth | 430mm |
| F. MAX Dozer Lifting Height | 420mm |
| G.Swing Radius | 2185/2200mm |
| Overall Length | 6,689mm |
JHL85 8.5 Ton Wheel Excavator Figure Photos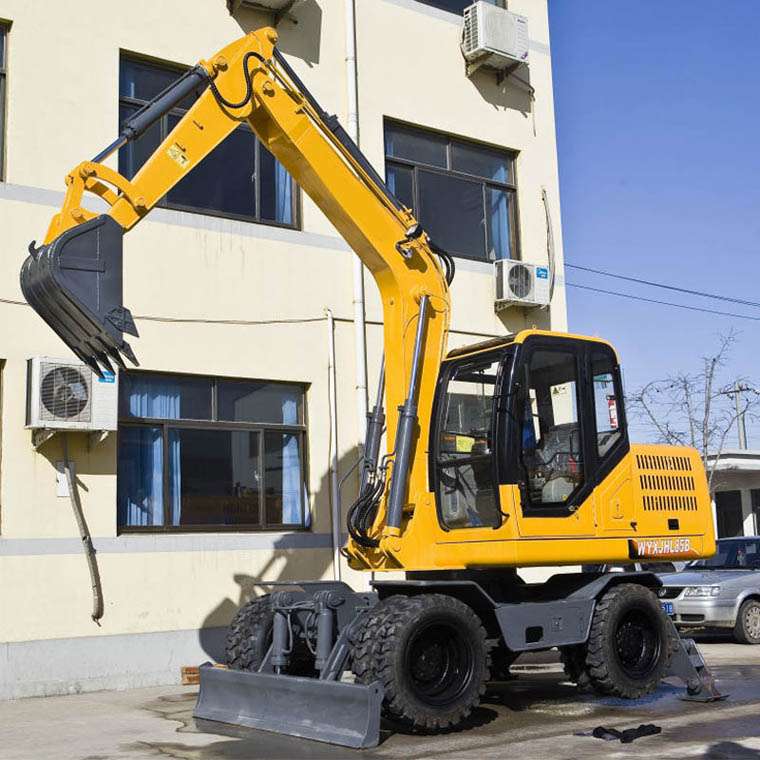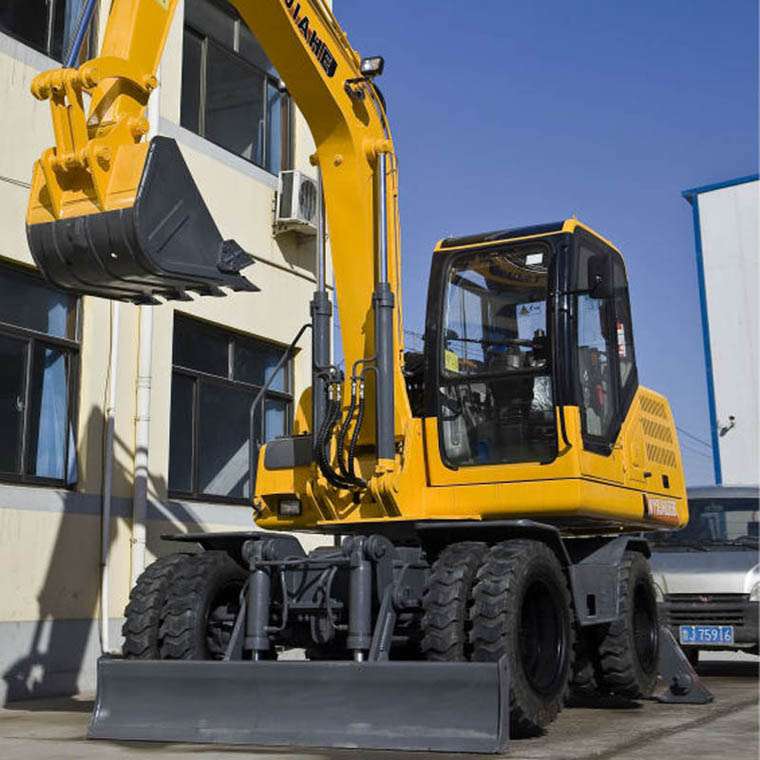 B/L of JHL85 8.5 Ton Wheel Excavator Trading