0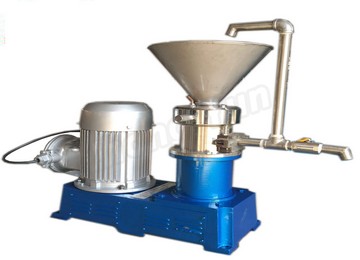 Grinding Machine Colloid Mill
The colloidal Mill is the equipment for grinding both fluid and semi-fluid materials. According to the requirements for materials to be processed,through the high-speed relative motion of the stator
Related Products
Product Description of GrindingMachineColloid Mill
The colloidal Mill is the equipment for grinding both fluid and semi-fluid materials. According to the requirements for materials to be processed,through the high-speed relative motion of the stator and the rotor, materials are subjected from the complex effects of the strong shear force,friction and high-frequency vibration. This machine can be used for ultrafine grinding,dispersion,
emulsification,homogenization, mixing and so on.
Special Performances: ( Select from different kinds of colloid mills according to the materials. )
a. If the colloid mill is used to produce emulsified asphalt or high-viscosity materials, you can increase the electrical power appropriately.
b. If the colloid mill is used to produce inflammable and explosive materials or solvent materials, the motor must be explosion-proof one.
c. If the colloid mill is used to produce materials with low fluidness or high viscosity,you may choose the large discharge port.
Application of GrindingMachineColloid Mill
a. The food industry: dairy products, chocolate, bean sauce, jam, peanut butter, cream drinks, etc.;
b. Chemical Industry: pigments, lubricating oil, spices, dyes, emulsified asphalt, emulsified rubber, catalysts, paints, etc.;
c. pharmaceutical industry: cod liver oil, royal jelly, pollen, etc.;
d. Daily Chemical Industry: shoe polish, toothpaste, cosmetics, balsam, soap, detergent, etc.;
e. Other industries: construction industry, paper industry, plastics industry, the battery industry.
Photos of Grinding Machine Colloid Mill