0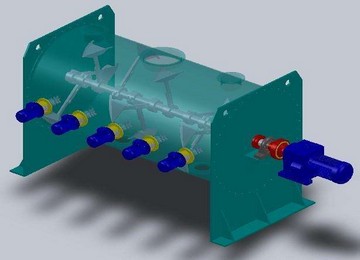 Plow Blade Mixer
Plow blade mixer is a new and efficient powder mixing equipment. The horizontal plow blade mixer can be used for solid-solid ( i.e. adding liquid into powder ) mixing, wet granulation, drying, concent
Related Products
Introduction of Plow Blade Mixer
Plow blade mixer is a new and efficient powder mixing equipment. The horizontal plow blade mixer can be used for solid-solid ( i.e. adding liquid into powder ) mixing, wet granulation, drying, concentration and other composite processes in chemical industry, paint, medicine, food, feed, fuel, metallurgy, mines and other industries.
The structure of Plow blade mixer is mainly composed of transmission part, horizontal cylinder, plow blade assembly shaft, fly knife assembly, discharge valve, liquid spraying device, etc.
The transmission part includes a cycloid pin gear reducer with a motor and a coupling, which mainly transfers the movement of the motor to the required speed and torque to the complex cutter shaft.
The horizontal barrel of the horizontal plow blade mixer is made of rolled steel plates for holding materials, and the barrel is provided with a plurality of holes for feeding and discharging materials for observation. The coulter shaft support seat is fixed on the cover plates at the two ends of the barrel.
The colter assembly shaft of the horizontal colter mixer consists of a colter, a colter arm and a main shaft, and the colter arm is mounted on the main shaft and serves as a half structure for easy disassembly and assembly.
The fly knife group of the horizontal plow blade mixer is composed of a plurality of fly knives, which are directly driven by the auxiliary motor and installed on the side of the barrel. In order to prevent dust from entering the bearing, the fly knife shaft adopts a multi-channel sealing structure.
The discharge valve of the horizontal plow blade mixer is installed at the bottom of the barrel ( except for continuous discharge ) and is used to close and discharge materials. Its work is realized through the handle and the four-link mechanism.
The spray device of the horizontal plow blade mixer is fixed on the circumference of the cylinder body, and the spray nozzle is an agricultural spray nozzle with good spray effect.
Technical Parameter of Plow Blade Mixer
Model/Specificationm3

One-time mixing

kg

Spindle motor

kw

Fly-cutter motor

kw

Weight

kg

LDH-0.1

40-60

3

1.1/2PCS

500

LDH-0.25

100-150

4

1.5/2PCS

850

LDH-0.5

200-300

5.5

1.5/2PCS

1100

LDH-1

400-600

7.5

3/3PCS

1500

LDH-2

800-1200

11

3/3PCS

2200

LDH-3

1200-1800

15

4/4PCS

2800

LDH-4

1600-2400

18.5

4/4PCS

3500
Photos of Plow Blade Mixer