0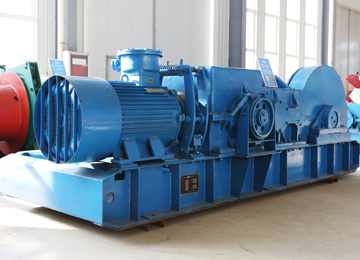 Multi Purpose Mining Two Speed Winch
Multi Purpose Mining Two Speed Winch with fast and slow two speed, mainly for underground coal face, mining equipment and various types of mechanical and electrical equipment relocation and other auxi
Related Products
Usage Of Multi Purpose Mining Two Speed Winch
Multi Purpose Mining Two Speed Winch with fast and slow two speed, mainly for underground coal face, mining equipment and various types of mechanical and electrical equipment relocation and other auxiliary transportation work, as well as underground mining face, into the bottom yard, down the mountain, mine surface, etc. And mining car scheduling, material handling work, but also for stope back caving.
Feature Of Multi Purpose Mining Two Speed Winch
1. Use multi-axis driving to achieve a large transmission ratio.
2. The use of "gear - UN" drive transmission principle, not only to achieve a slow, fast two speeds, but also to achieve a fast, slow large ratio, to achieve a good, fast and slow integration of mine winch.
3. Use "long strip symmetrical" structure, to achieve compact structure, beautiful and practical, suitable for narrow space in the coal mine operations, and easily moved from different workplaces.
4. High transmission efficiency, high efficiency, large rope capacity, saving energy.
5. Simple operation, easy use, and has a reliable double brake.
6.Simple construction, reliable, and low cost.
7. Long life, low costs of maintenance and repair.
Pictures of Multi Purpose Mining Two Speed Winch