0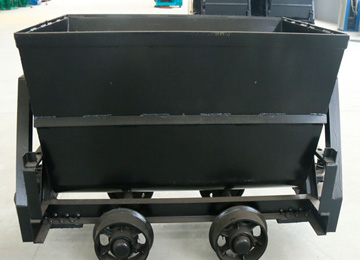 KFU Mining Bucket Tipping Wagon
KFU Mining Bucket Tipping Wagon also called bucket tipping mine cars are suitable for surface and underground mining of metal mine or other mine, to transport the ore, waste rocks and other materials
Related Products
Introduction of KFU Mining Bucket Tipping Wagon
KFU Mining Bucket Tipping Wagon also called bucket tipping mine cars are suitable for surface and underground mining of metal mine or other mine, to transport the ore, waste rocks and other materials along the underground tunnels and the surface working site.
Features of KFU Mining Bucket Tipping Wagon
Simple structure, durable, convenient, as long as human open the pin you can easily remove the material. The wheel bearings, effectively reduce the operating resistance, so it can use locomotive or labor power as traction or push.
Main Parameter of KFU Mining Bucket Tipping Wagon
Model

Volume

(m3)

Load

(T)

Gauge

(mm)

Wheel Base

(mm)

Wheel Diameter (mm)

Traction

(KN)

Traction Height

(mm)

Overall Size

(LxWxH)

KFU0.55-6

0.55

1.3

600

500

300

60

320

1552*850*1150

KFU0.75-6

0.75

1.88

600

600

300

60

320

1700*980*1250

KFU1.0-6

1.0

2

600

600

300

60

320

1910*1070*130

KFU1.2-6

1.2

3

600

700

300

60

320

2228*1070*1320
Pictures of KFU Mining Bucket Tipping Wagon